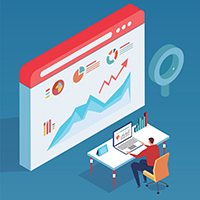 While the real estate market in the Chicagoland area had been trending upwards forsome time, the COVID-19 pandemic has drastically changed the economic landscapethroughout the city, country, and even world. This leaves most of us wondering how the real estate market has been impacted and what the future may hold for homebuyers, sellers, and investors.
Buyers' demand exceeds the supply of homes
With some states beginning to slowly lift shelter-in-place orders and to reopen businesses, the home buying demand is making a comeback, and according to recent studies by Redfin, they are only down 15% from pre-pandemic levels. So this is good news for home sellers, right? Not necessarily. Though there is currently a lack of inventory on the market for new homebuyers, not to mention record low home loan interest rates, this does not mean it will be much easier to sell your home. The major factors that contribute to the sale-ability of your home are the available inventory in your area and the price bracket of your property.
Why is the inventory so low? For one, many would-be sellers have decided to hold off on listing their property until states fully open up again in hopes of being able to negotiate a better price. Additionally, many sellers with homes currently sitting on the market without much interest from buyers have opted not to lower the prices, but to simply delist their homes and wait to relist once they feel they may have a better outcome.
The good news for sellers listing a home that fits into an affordable starter home category (one that does not require special financing such as a jumbo loan) is that the demand for these homes is still outweighing the supply, even in the midst of a pandemic. But how is the high end of the market faring? The answer to that is not as simple. The supply of higher end homes (homes over $1 million) is extremely limited at this point in time, which is usually good news for home sellers. However, it has become far more complicated for the potential homebuyers because many banks are enforcing stricter lending guidelines such as requiring heftier down- payments and higher FICO scores, which can drastically affect a homebuyer's budget. For example, if they were planning on making a 10% down payment on a home (which according to Redfin data includes nearly half of all Americans who financed a home in 2019), but could not afford the 20% down payment a lender may now require, the buyer would either have to rethink their budget or wait on purchasing a new home.
Home foreclosure numbers declining, for now
What does this mean for home foreclosures? According to ILFLS, at the beginning of the year the monthly number home foreclosures in the seven counties increased about 8.75% in January 2020 versus that of January 2019, but began to decline and actually decreased to 6.5% fewer foreclosures in February 2020 than in February 2019. Of course when COVID-19 struck the foreclosure numbers became nearly non-existent with court closures as well as mortgage forbearances and other economic aid in place during shut-downs.
Foreclosures on ILFLS: 2019 (blue line) vs 2020 (red line)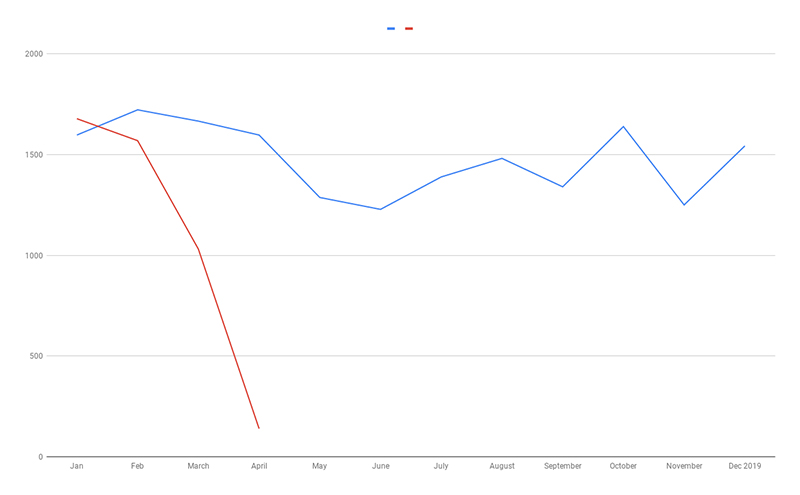 For those looking to invest in foreclosed property, this is not to say that the numbers will continue to remain low or decline compared to 2019. After the country reopens and Americans adjust to job-loss, salary changes, and overall economic strains, the number of homes for sale or in foreclosure may rise significantly.