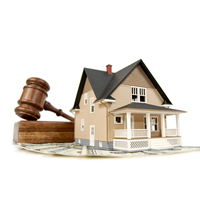 So you've decided to finally get into the Illinois foreclosure property investment scene. You've done some research, you've checked out the Illinois foreclosure listing service, perhaps you've even attended a couple foreclosure auctions – congratulations on this big step in your investment journey!
I attend foreclosure auctions around Chicago about four times a week. These auctions will routinely feature a situation where I'm baffled that the person has deemed themselves ready to purchase a property that day. More so, these mistakes are repeated way too often.
Thus, the reason for this new series is simple: these foreclosure auction blunders are actually completely avoidable!
Without further ado, here is one of the top foreclosure auction blunders and advice from industry professionals on how to avoid it.
Here is Auction.com's "Prepare for Auction" checklist for attending an in-person foreclosure property auction: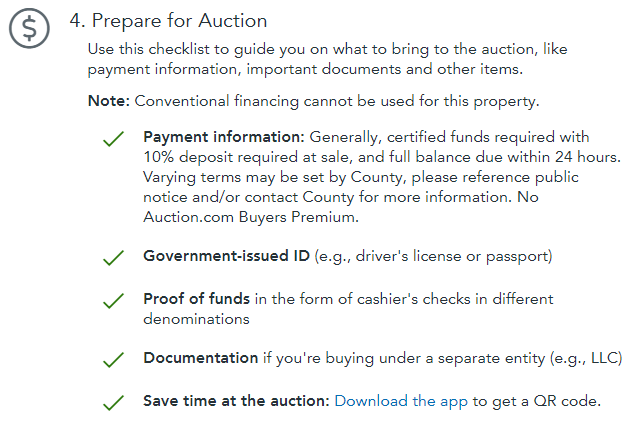 Image source: auction.com
Are they forgetting anything?
Your answer should have been a big, huge YES!
It is such a huge, avoidable blunder to just stop there and decide to buy a property at a foreclosure auction without actually visiting the location (or looking at it for yourself on Google Maps).
Unfortunately, the industry is not completely blameless, as you see Auction.com doesn't even include this very important part on their checklist.
Chicago foreclosure investment specialist Bardan Azari (Founder/CEO ProBidder LLC) puts it this way, "I've seen people that probably examine the fruit they buy more than a piece of real estate property they want to invest in".
It's true, I've experienced it first hand. Last week a gentleman asked me if the house up for auction located on a street called "Schoolhouse Lane" was a real schoolhouse. It wasn't, of course it wasn't.
Take a look at this foreclosure in Cook County that went to auction last Friday.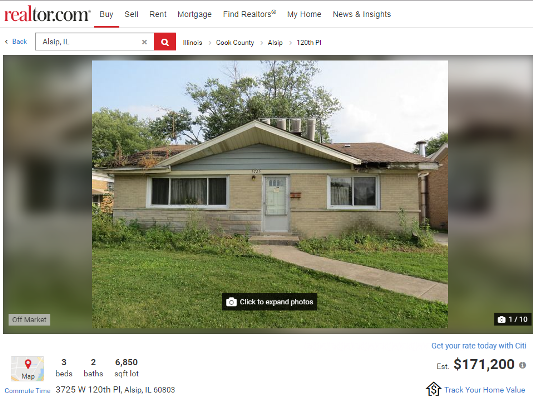 Source: realtor.com
This property had no second mortgage, no extra liens, no extra taxes. Not bad, and it's fully disclosed that the property definitely needs work. By most standards, this property checks out and Realtor.com even markets it as ready to invest. So what's wrong with it?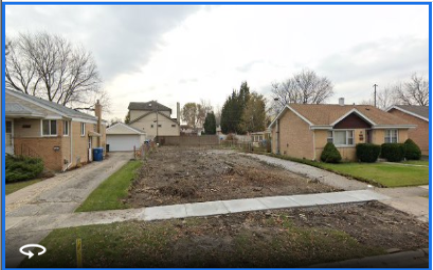 Well, the house no longer exists.
And that's a pretty big problem if you're not in the market for investing in dirt.
Even if you can't go inside the properties that are being sold at foreclosure auctions, like through a Sheriff's Sale (read my Sheriff Sale insights here!), you can definitely drive by and examine the property's general condition – or as I said before, at the very least see if it still exists on an updated map. Additionally, driving by gives you a chance to canvas the neighborhood too.
You may think this is a mistake that only first time investors or first time home buyers make, but that's not true because there are situations that even a seasoned investor wouldn't expect without seeing it.
"There was a foreclosed property at auction years ago that, by all accessible means of research – pictures and data about the property, details on the mortgage, a thorough review of the foreclosure court case – showed the property to be a single-family home,'' recalls Bardan, "but after the investor purchased it and went to see the property, it turned out the previous owners had changed it into a two-unit makeshift townhouse, and the investor had only purchased half of the property at auction".
These are dramatic and fairly rare cases, which is why they serve as great horror story lessons to investors of any level. But don't let it slide because of that!
Most instances of a bad investment stemming from the mistake of not viewing the property comes from buying a house just really puts the word "distressed" in "distressed property" and the rehab simply isn't worth it. Trying to estimate the rehab costs without actually seeing the property is just ridiculous.
This is why Bardan constantly reminds all of his clients – from a client that he met yesterday to a client that has been in the business for decades just like he has – to always make sure you see where your money is going.
Probably the worst thing that can happen when you bite into an unexamined piece of fruit is you end up eating a bug. Losing out on a foreclosure auction investment because you didn't travel to the property you wanted to invest in? I'm going to go ahead and guess that feeling is along the lines of wishing a bug had eaten you.
We're going to make sure that never ever happens!
Cheers to your success and make sure to check back regularly, especially for this helpful series!