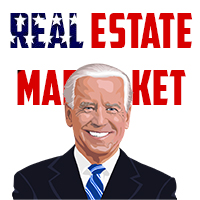 With a new president in the White House, there will be changes to the real estate market. The most obvious change will be a delay in foreclosures, but there will also likely be other long-reaching effects on the real estate market as a whole.
Joe Biden (Photo: Eric Haynes).
Extended Foreclosure Ban
Earlier in the pandemic, there had been a ban on foreclosures and evictions, but this was set to run out on Jan. 31. One of the first executive orders that Biden made upon taking office was to extend the ban on these evictions.
The order involved two separate actions, one for renters and one for homeowners. The original ban on evictions for not paying rent, which came from the CDC, is due to expire at the end of January. The ban on foreclosures is handled by the Department of Housing and Urban Development, along with the Department of Agriculture and Department of Veteran Affairs.
This is an important move, as experts estimate that about 25 million homeowners and renters are at risk of getting evicted.
The Federal Housing Finance Agency responded by only extending the moratorium on evictions and foreclosures until late February, but Biden is calling for even more time. Biden specifically called for the bans to extend until late March, at the earliest.
Rent Relief
Biden has also included rent relief in his proposal for a COVID relief bill. It specifically includes $35 billion for relief for rent, homelessness, and utilities.
This not only affects renters, but it can also affect landlords with only a handful of properties who depend on rental income to live.
Potential and Expected Long-term Effects
Experts are also looking further ahead into the future to see how Biden's presidency and expected policies may benefit the real estate market.
Improved Market Confidence
Even before Biden's inauguration, there were signs that his election was enough to improve confidence in the real estate market. For example, data regarding new real estate deals in Manhattan showed that there was an increase of 6% year-to-year from November to December.
Improved Stability
Experts also believe that the stability that Biden is expected to provide will be good for the market. Investors, homeowners, and lenders will have a better idea of what to expect, both in terms of regulations and taxes. This can further increase the confidence people have in the market, encouraging its growth.
Removing the SALT Cap
Former President Trump had enacted a SALT cap, which limited the number of itemized deductions on local and state taxes for interest on mortgages. Biden is expected to remove this cap. That should help people in the suburbs, where property taxes are usually higher compared to in cities.
Affordable Housing Fund
Biden is also anticipated to create an Affordable Housing Fund with $100 billion. This will target low-income housing, including communities where housing is not affordable.
Time will tell the exact effects that Biden's election has on the real estate market, but at the very least, we can expect a temporary delay on all foreclosures. It is likely that the market will improve, thanks to the stability Biden's leadership should provide.
What Can You do as an Investor?
While you are waiting for the auctions' restart, you can start purchasing and investing in properties at foreclosure auctions from the comfort and safety of your own home! Find out how here.
Remember, that once the auctions restart, we are expecting some HUGE numbers. You can prepare for the upcoming new wave of foreclosures, by attending one of our free webinars.
---
Related Articles: