This is a very common question that new investors wonder about. Let's take a look at what each of them and how they compare.

What is a short sale?

Most commonly, short sales occur when a homeowner is "underwater" with their mortgage, meaning they owe more to the mortgage lender (usually a bank) than the market value of their property. You the investor, on behalf of the homeowners, can negotiate a deal with the mortgage lender to settle the debt for a lesser amount. For example, if you purchase a property for $100,000 but the remaining balance due on the mortgage is $150,000, then your purchase is $50,000 "short" of paying back the lender. Click here to get advice and insights from a short sale specialist!

What is a foreclosure sale?

The overall definition of a foreclosure encompasses the entire process that occurs when a homeowner is unable to make mortgage payments for a significant amount of time. First, the mortgage lender will give ample notice to a homeowner, informing them they are facing foreclosure and at risk of losing their property. If no deal is made between the homeowner and the lender, then the lender will schedule a foreclosure auction date to unload the property. This auction is the foreclosure sale. Click here for a jumpstart into foreclosure auctions!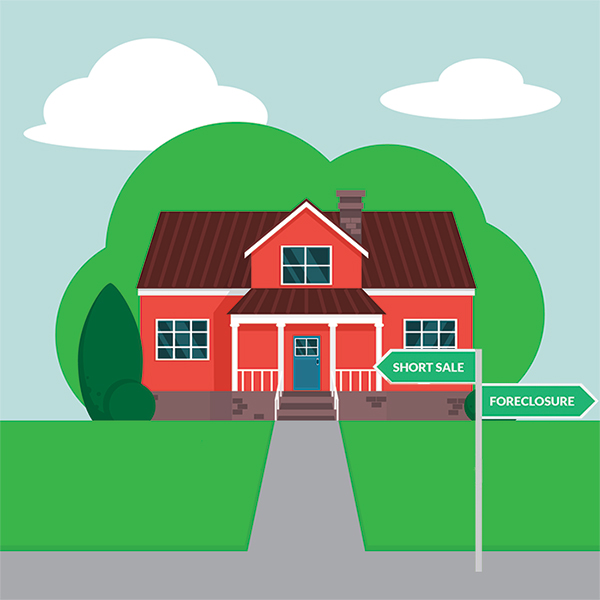 Here are 3 difference between a foreclosure sale and a short sale for you, the investor.
First is the amount of waiting time. Short sales take longer than foreclosure sales because you will need lender approval to pay them less — and no one wants that. Additionally, you will also need to negotiate with the homeowners, which are now the people that you will be evicting — and no one wants that either. The negotiation process can be tedious and time consuming, with closing times taking up to a year. Foreclosure sales/auctions are a lot faster because there are no negotiations. If you pay for the property, and you get approval of sale from the courts, then you get possession.
That segues into the second difference, the forms of payment. Foreclosure sales/auctions are cash only, while short sales can be purchased with a mortgage. This is a huge deciding factor and one that needs to be carefully considered/planned.
Finally, the price of your investment comes in at number three. Foreclosure sales/auctions start with a set price that is the opening bid amount. Raising the price is therefore, 100% up to you as you see fit. Proper research, due diligence, and advice from a full-service foreclosure auction specialist is the easiest and safest way to purchase. You will need cash up front to bid at an auction, then pay the non-negotiable winning bid within 24 hours.
The price of a short sale is up to the lender. Because of this, lenders may seek additional restitution, most commonly for fees like closing costs, taxes, or some repairs — basically everything a typical seller would be responsible for in a regular real estate sale. However, unlike a foreclosure sale, these fees are negotiable, which can prove to be a big advantage for the round table savvy investor.
Whichever path you choose, you'll still be getting amazing deals on properties below market value to turn into a nice profit — and everyone wants that.

Happy investing!