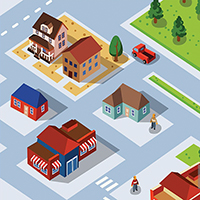 The one true key to being successful in real estate, whether as an investor, broker, or agent, is fully understanding the neighborhood you're looking to do deals in. Here are the top three most important statistics and facts that you must know about a neighborhood.

1. The Surroundings
Let's start off with an easy one: a neighborhood's livability. This includes important aspects such as local schools, walkability, and crime rate. Chicago has a walkability score of 77 with 46% of homes deemed walkable.
A property that is within walking distance of schools or shopping sell for 8.5% or $21,716 more.
But just because the property is situated in a great school district doesn't necessarily entail a larger profit. Homes in these areas are de facto higher priced so depending on the amount of rehab required, the margin may not be as big as you'd expect.
Since there are more buyers than properties available, you should definitely use factors that traditionally hinder livability to your advantage. A home in great condition but near an airport, train tracks, or a cemetery may sell for less but that also means you can get it for less as well. A nice rehab coupled with historically low interest rates and high rental rates during a housing shortage means you're bound to make a nice profit.

2. The Economy
It's important to know what economic factors play a role in the neighborhood. This includes the average income, poverty rate, and employment rate. These statistics are very helpful in determining whether the property is a fix and flip or a buy and rent out. For example, a property in a lower income neighborhood away from schools but close to the train makes for a difficult flip but a superb cash flow rental.
Also check the census for a neighborhood. An increase or decrease in population should affect your price and exit strategy. Nashville, Tennessee has seen a dramatic spike in the local real estate market ever since Amazon announced their new headquarters.

3. The Inventory
For every neighborhood, always check the number of properties in pre-foreclosure, the number of short sales, the number sold to third party investors, and the number of properties that got sold back to the bank (REO). After that, check the neighborhood's active listings, how many homes were sold, how long they were on the market, average rent prices, and the number of properties sitting vacant.
For investors, ideally you'll also want to know what percent of properties are owner-occupied and what percent are renter-occupied. These are all key components in strategizing your foreclosure property investment. If single family homes are flying off the market in 90 days or less, then it's a great fix and flip neighborhood.
If properties are sitting for three to five months while rental prices are keeping at a nice rate, then buy and hold is the way to go.
If any part of this guide was new to you and you're wondering where you can find more information and data, you're in luck — ILFLS has all of this and so much more! Adjusting search parameters for neighborhoods, zip codes, property status (pre/post foreclosures), and time will give you all of the information.

Happy investing!

P.S. To inquire about premium ILFLS Neighborhood Research Reports, please email [email protected]